Setup your accounts and account defaults.
Step 1.
Go to Ledger > Account Setup and add all employees as sub accounts of  the main general ledger account, salaries.
Go to Ledger > Account Options and select the Account Defaults tab. Select your Salary, UIF and LBS general ledger accounts. See below.


Step 2.
Go to Employee > Lookup, open the employee you wish to edit/amend by right clicking on the employee and then selecting the Deductions & Earnings tab.
Fill in only fixed deductions and earnings. Data that changes every month like commissions can be filled in, in the New Payment Run form.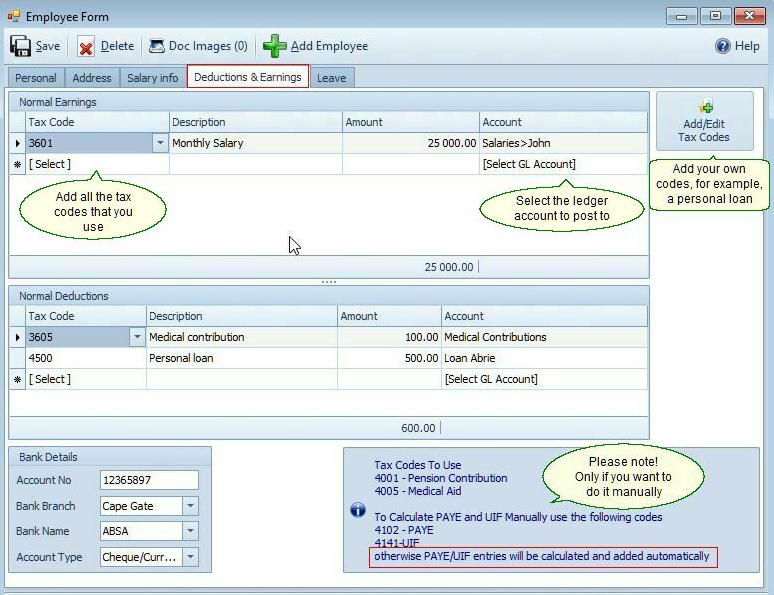 Please contact our office if you need more details regarding payroll.
Step 1:
You will need to select what reconciliation mode to use for the supplier you want to pay.
For this you need need to open the supplier master. We are going to use the "Invoice" Payment allocation type for this scenario. To use the "status" recon method click here:
http://www.smart-it.co.za/help/supplier-reconciliation.htm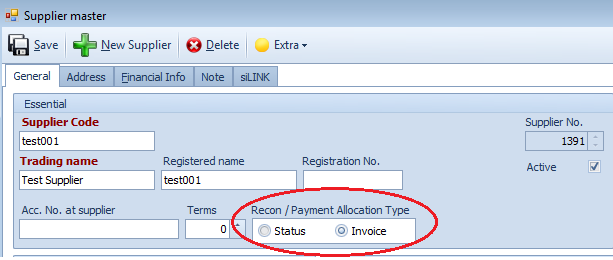 Step 2:
Go to "pay supplier invoices"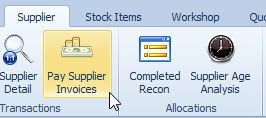 Step 3:
Select Supplier
Step 4:
Select invoices
Step 5:
Fill in either "Supplier Credits or "Payment Amt"
Step 6:
Click on pay selected.
This is just a quick guide. See below explaining more or click on this link:
http://www.smart-it.co.za/help/pay_supplier_invoices.htm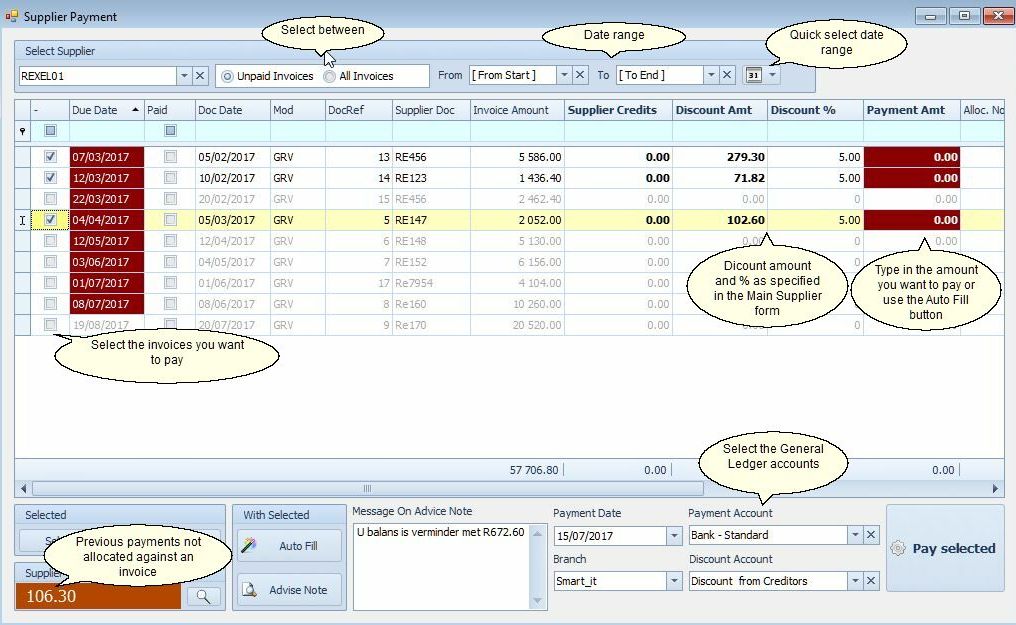 Why would you want to use this feature?
Example 1:
You sell car batteries and by selling a car battery the client will get a discount for his/her used battery that they are returning. (used battery needs to be loaded as a trade-in item. Click here for more info on trade in items, ( http://bit.ly/SiStockAdditionalInfo)
When selling the new battery, Smart iT will automatically load used battery.
Example 2:
You sell tyres and when selling tyres, you always need to load wheel alignment.
When selling the tyres, Smart iT will load the wheel alignment automatically.
Steps on how to do the setup:
Step 1:
Go to Invoice > Extra > Invoice rules. (If you do not see it then you need to update your Smart iT Backend.)

Step 2:
Add Rule
Step 3:
Give the rule a name.
Step 4:
Select out either the stock group or stock item. (This is the new item being sold on the invoice)
The rule can affect all the items linked to that stock group or you can select a specific item.
Step 5:
Select the item that should automatically be added to the invoice when selling an item/stock group which was selected in step 4.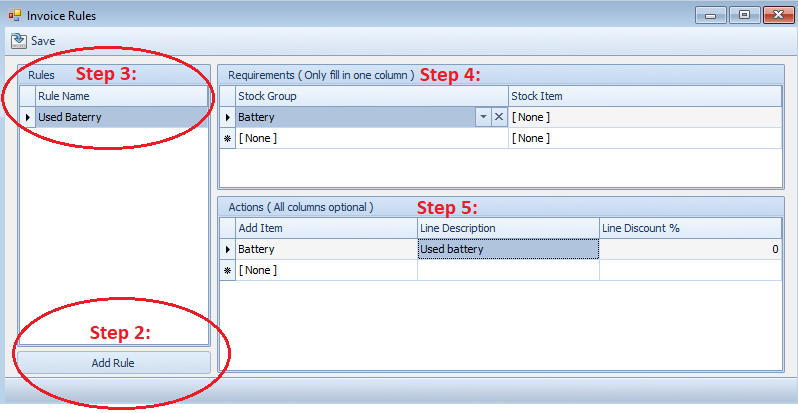 The key is a good stock take module
The main sources of shrinkage according to Fidelity Security Group includes dishonest employee theft (39%), shoplifting (38%), administration/non-crime losses (16%) and supplier fraud (7%)
The question is how to combat these shrinkages. For now, we are only going to concentrate on POS systems and what they can do.
One of the best methods to contain shrinkage is to have an effective stock take system to help determine where the theft occur and what items are targeted.
In this article, we are going to concentrate on what entails a good stock take system and in the next article on how to leverage internal data.
Must be able to do cycle counts and 'normal' counts.
Most of the programs do cyclical scores using a hand-driven system that allows the stock to be filtered on the following criteria:
per warehouse
per supplier
per bin location
per inventory group
as well as a differentiation between consignment stock and normal stock.
but these days it is not good enough, mobile computing and barcode scanning must ensure warehouse optimization and work-flows.
Example, scan the barcode on your product items. If the barcode exists in your inventory, each scan will register as a quantity of 1. You can choose to scan multiple times on the same product to increase the quantity, or manually edit the quantity.
The program must also be able to determine which items are no longer in the store. This is important because many programs, if the stock is counted with scanners, does not cater for this.
Some of the better programs can also do an instantaneous stock count where the journal entry is done as soon as the counted value is entered.
For more information see http://bit.ly/SiStockTakeInstant
Administrative losses.
can occur under the following circumstances:
The goods receiving note is done incorrectly

Prevent this by reconciling your creditors to at least make sure that the amounts of the Goods Received Note corresponds to the supplier's invoice amount.
Detailed reports on price variations and differences between supplier list prices and prices as per goods received note.
The items were entered under the wrong item code or incorrect price To pick this up your program must make provision to show and warn you if a price change occurs and warn you. The default setting can be for example: Warn if cost price change above x% e.g. 5%
You will get a warning for e.g. like the following image
Not entered at all

Check your negative stock report each day. A negative stock may mean that the goods receipt note is not done at all or under the wrong item code.
Consider not selling negative inventory by not allowing to sell negative stock.
Theft from changing the price on the invoice

Prevent by disallowing price changes.
Recommended options are:

do not allow selling below cost
allow certain items to have a variable price
give each customer a specific price level
price level can be controlled by giving each employee only the right to select certain price levels.

Reports that must be readily available are:

markup %, Gross Profit % deviations
summary of data e.g. markup per representative, markup per stock group.

Are you losing out because you are not using gift cards, loyalty cards or promotional vouchers?
A successful business is always improving and responsive to changing customer needs. Here are some tips on making small changes that can increase your sales and boost your customer service.
Gift Cards
A Gift card is a preloaded card that allows the cardholder to purchase goods or services to the value of the card. It is a great way to acquire new customers while retaining the loyal ones. Gift cards are an extremely effective marketing tool that can be prominently displayed at the cash register or front desk for easy access.
Three reasons why you should start a Gift cards program:
1. Improved Sales
Although gift cards are often set to a specific amount, many customers will end up spending more. The gift card encourages customers to enter your store and browse products. Once they've started shopping, it is likely that they will find products that cost more.
Highly popular, they rank as the second-most given gift by consumers and the most-wanted gift by women.

61% of gift card holders spend up to 60% more than the amount gifted.

90% of gift cards are used within 60 days, increasing revenue.
2. Increased Brand Awareness
Designed to match your company logo and brand, a gift card is an effective marketing tool. As people purchase more gift cards for family and friends, your brand will reach new customers.
3. Reduction in fraud
Using gift cards for customer credits and merchandise returns will limit exposure to fraudulent transactions while encouraging repeat business.
If you want to learn how to add gift cards follow this link http://bit.ly/SiGiftCards
Pr

omotional Vouchers
A Promotional Voucher is a code or document that can be exchanged for a discount when purchasing products. Promotional Vouchers are widely used to draw first-time customers or to increase purchase amounts for current customers. These vouchers are generally used in retail stores as a part of a sales promotion.
Vouchers can be sent directly from within SI+ to targeted customers/prospects by SMS or email.
See how you can create and send promotional vouchers from smart-it: http://bit.ly/SiGiftCards
Loyalty Cards
A loyalty card program is an incentive plan that has two advantages. Firstly, it allows a retail business to gather data about its customers such as contact information and spending habits. Secondly, it is used to build repeat business by rewarding repeat customers.
Three reasons to use Loyalty Cards:
1. Improved customer retention
The accumulation of loyalty points toward a reward makes customers more likely to return. It also provides you with information about the customers that assist in meeting their needs more effectively. In addition, loyalty program operators often report that once a customer starts redeeming rewards, their enthusiasm to return rises considerably. This leads to much higher levels of customer retention. You can use this data to segment your customers for improved marketing, sales and customer services.
2. Best customer marketing (BCM)
Best Customer Marketing involves spending more time, effort, and money on the best customers in order to maximize your return on investment. Not surprisingly, the principles of best customer marketing are the driving force behind the leading loyalty programs in the world today.
3. Reduced promotional and advertising cost
Significant savings can be made by targeted marketing campaigns. There is no need to send out thousands of flyers that will be thrown away unread or take up newspaper space that is irrelevant to many readers. The added benefit of targeted advertising is the fact that it can be measured to gauge its effectiveness.
See how you can set up a loyalty program in Smart-it: http://bit.ly/SiLoyaltyCards 
Have you ever got frustrated when a customer asks you to send him all his invoices that are outstanding?
With Smart iT that is not a problem. See steps how to make your life easier.
Go to Invoice > Invoice look up
Step 1: Use the search bar to filter out for the customer and also to see the "not paid invoices"
Step 2: Click on "Select All"
Step 3: Click on "Email"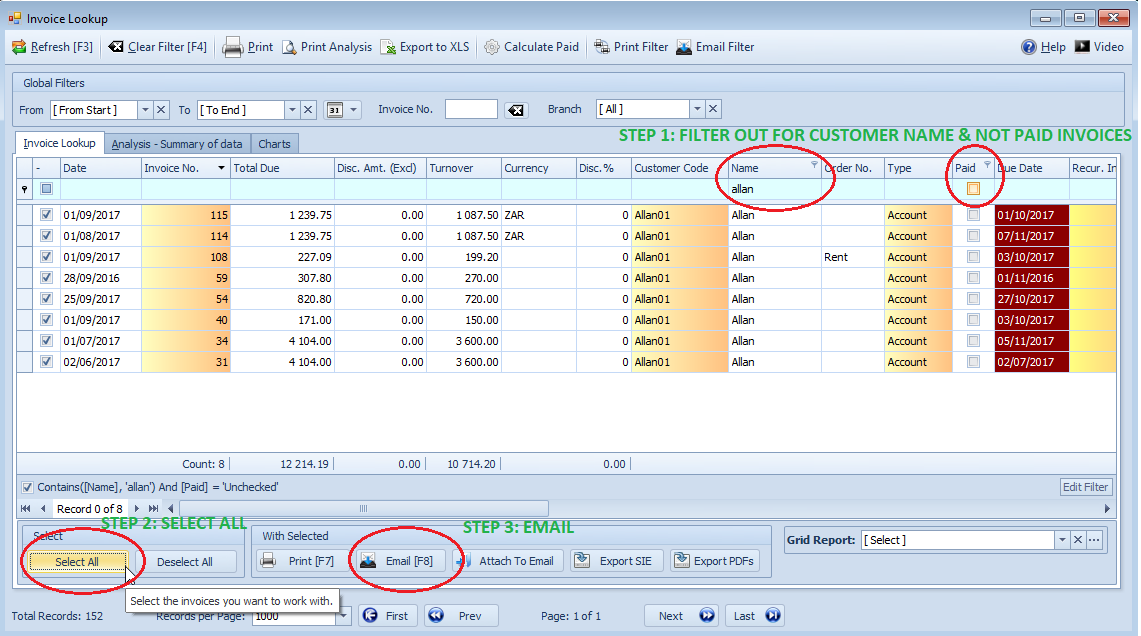 (Click on images to enlarge)
07 Mar 2018 17:24
quote: select warehouse by keyboard
Supaquick: add customer account number
supplier advice note: fix reconciled showing on completed/captured recon
prestashop autosync error on order import
stock turnover: fix divide by zero error
sales overview: fix loading data twice on open
security form: not allow delete if no edit
crn: select tillno with security setting
VAT change form

under GL -> Extra
Updates active Quote, Sales Order, Jobcard, Recurring Invoice
Can reverse changes by reversing the rates but keeping other settings the same
option to Keep Totals (decrease price) or to Update Totals (keep price)

VAT change automatic popup at log in on from 1st April(Sunday) to 4nd April(Wednesday) for administrators if not changed
stock turnover: fix overflow error
customer ext lookup: bulk change auto email invoice
grv lookup: right click export to XLSX
grv process: made stock update faster
sales order picking list: add support for group headings
payslip: 2019 tax year PAYE tables
customer new default: payment terms