WE ARE READY FOR THE NEW VAT!
Smart iT has made this transition so easy that by a push of a button you are ready for the NEW 15% VAT!
Use this form to update your VAT from 14% to 15%
Go to Ledger > Extra > VAT Change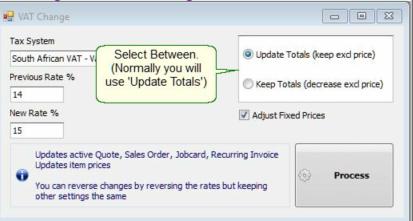 You have 2 options to select from:
Update Totals: This will keep your excluding selling price. Example: Excluding price R100, new inclusive price R115
Keep Totals: This will keep your current inclusive selling price. Example: Inclusive price R114, new exclusive price R99.13
Adjust fixed prices: This box must be marked. Otherwise, the VAT update will only update items marked as MU (markup) items and not items that have fixed prices.
The following will happen when you click process:
All active quotes, sales orders, job cards and recurring invoices will update.
All items in your stock master will update.
PLEASE NOTE THIS UPDATE MUST ONLY BE DONE AFTER 31 MARCH 2018
If you want to read this online click: http://bit.ly/SiVATchange
Please remember to update your help file. Click here http://bit.ly/UpdateHelp
Please forward this link http://bit.ly/SiVATchange  to anyone who you think will benefit from it.