New bulk price edit feature
Our new module will allow you to change prices in the lookup form so that you do not need to open up each individual item. This new module is especially handy for customers that are working on fixed pricing instead of mark-up pricing.
Step 1:
Go to Stock items > Extra > Bulk price edit.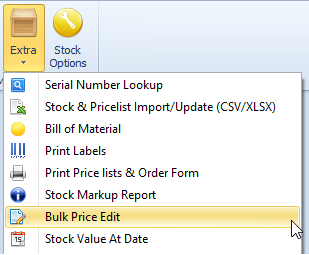 Step 2:
You can use any of the following columns to change the price of the items
– Price 10 Excl.
– Price 10 Incl.
– Pr 10 MU%
– Pr 10 Margain/GP%
If you change, for example, the Price 10 Excl then it will automatically update the other 3 columns, and vice-versa if you change anything in the other 3 columns.
Note: You can also use the blue filter/ search bar to filter out, for example, all items that are being sold under a 20% GP.
Step 3:
Select the items on the left for the prices that you amended.
Click on "Print Labels" at the bottom to reprint new labels for the items.